IMPALA's sustainability programme was published on 8th April 2021. The programme sets an overall goal for the European independent music sector, with voluntary targets and voluntary tools, see more below. 
During the week of Earth Day 2021, IMPALA released a special 
20MinutesWith
 podcast on April 22nd with Horst Weidenmüller and Alison Tickell on IMPALA's recent 
announcement
, including its carbon targets, climate charter and more. IMPALA also published 
guidance for members
 on April 23rd, with practical and effective solutions for members to make their businesses more sustainable.
These events coincided with Music Declares Emergency's #
turnupthevolume
 week highlighting the work on sustainability taking place across the music sector. Find out more about Music Declares Emergency 
here
.
The overall ambition is to aim for a climate positive IMPALA membership by 2030 with an interim net zero target for 2026 (voluntary, also recognising every company and country is different).
IMPALA's work is defined by its IMPALA climate charter, see below and also available here in long form and implemented by the IMPALA sustainability task force
IMPALA will make voluntary tools available to members:

Possible options (voluntary) for 

collective investment solutions to offsetting, regeneration

will also be reviewed the by task force

.
IMPALA's climate charter in short form and infographic is below.
To read more about IMPALA task force and IMPALA's other sustainability work,
click
here
IMPALA's Climate charter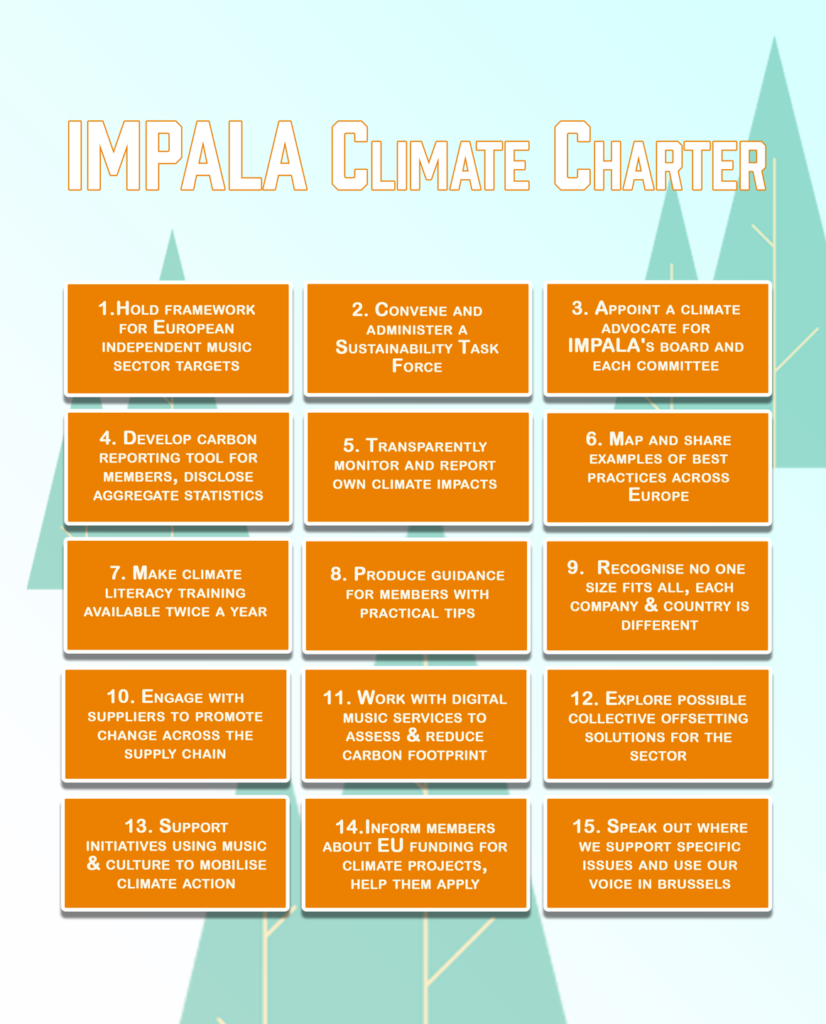 IMPALA commits to:

1.    Hold framework for European independent music sector targets
2.    Convene and administer a Sustainability Task Force
3.    Appoint a climate advocate for IMPALA's board and each committee
4.    Develop carbon reporting tool for members, disclose aggregate statistics
5.    Transparently monitor and report own climate impacts
6.    Map and share examples of best practices across Europe
7.    Make climate literacy training available twice a year
8.    Produce guidance for members with practical tips
9.    Recognise no one size fits all, each company & country is different
10.    Engage with suppliers to promote change across the supply chain
11.    Work with digital music services to assess & reduce carbon footprint 
12.    Explore possible collective offsetting solutions for the sector
13.    Support initiatives using music & culture to mobilise climate action
14.    Inform members about EU funding for climate projects, help them apply
15.    Speak out where we support specific issues and use our voice in Brussels
To see this charter in long form, click here