London, 29th November 2019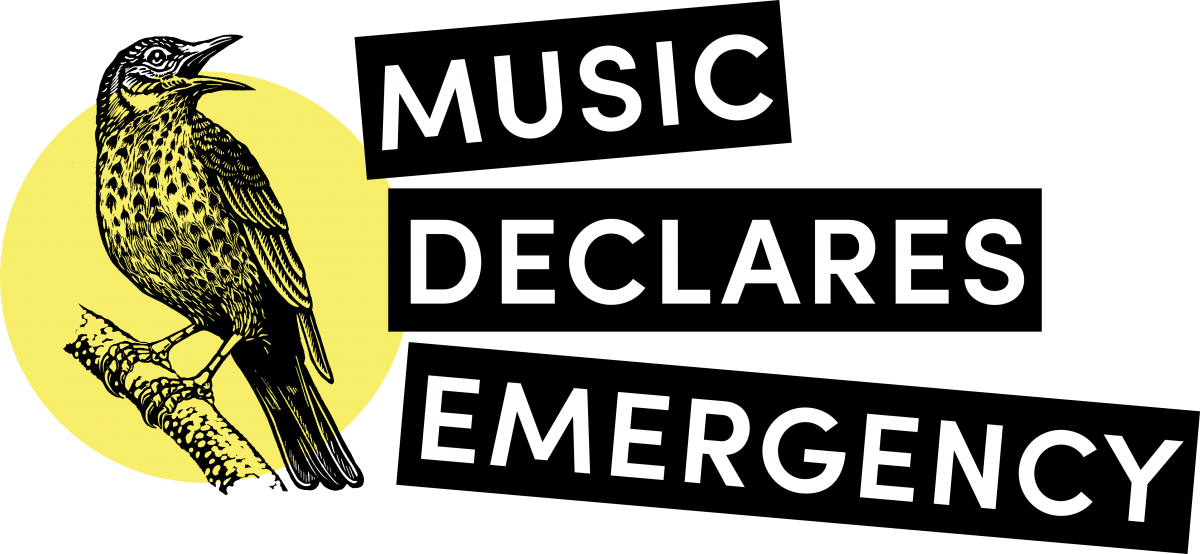 This year, IMPALA's Outstanding Contribution Award goes to Music Declares Emergency, the UK organisation formed by a collection of artists, music professionals, individuals and members of leading environmental charity for the creative industries, Julie's Bicycle, in 2019. In July, MDE declared a Climateand Ecology Emergency, which attracted thousands of signatures from all sectors of the UK music industry, including artists such as The 1975, Foals,Radiohead, Robyn and Massive Attack.
Music Declares Emergency works with the UK music industry to improve sustainable practices and act as a focus for the collective voice of UK music to call for systemic changes from government to protect all life on Earth and achieve net zero carbon emissions by 2030. With a working group that draws on all areas of the industry and with the decade long research and experience of Julie's Bicycle, the organisation aims to create conversations around changing practices and offer support to businesses and individuals wanting to make such changes.
In recognition of the importance of this initiative and to echo the call on decision makers to act now, IMPALA decided to give its Outstanding Contribution Award to Music Declares Emergency.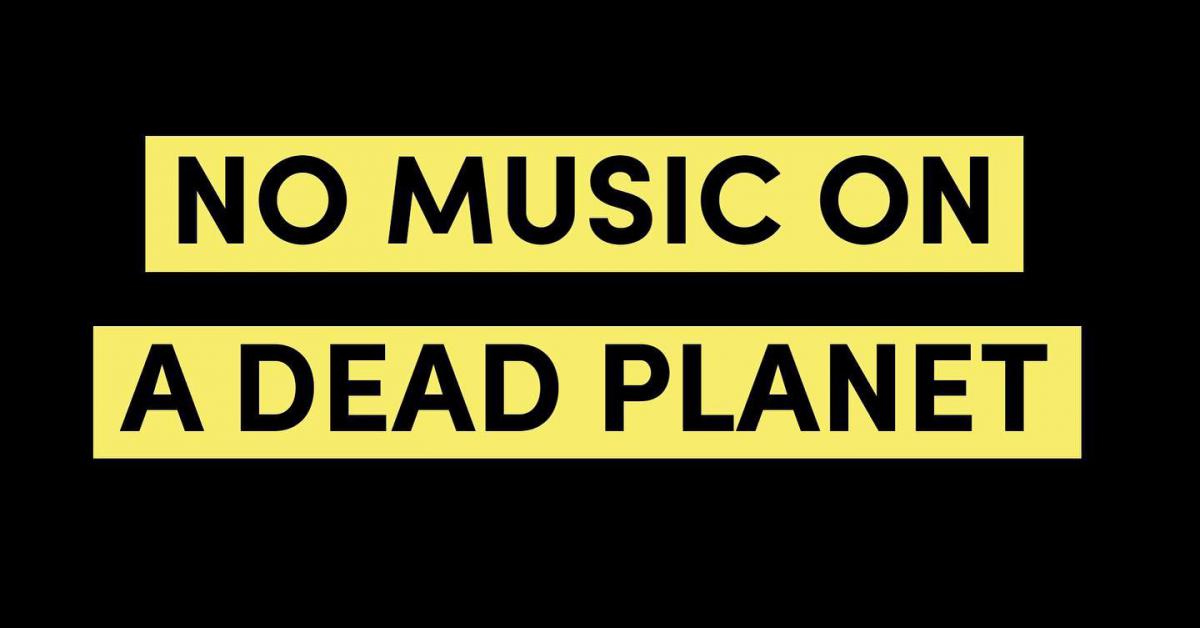 IMPALA Executive Chair Helen Smith commented: "This movement seizes the power of the music sector to take action and inspire change. It is important to join forces and to encourage collective action for climate. IMPALA's award recognises the unique role this project plays in the call for emergency action to protect the future of our planet ".

Music Declares Emergency spokesperson commented : "The response of the UK music industry, and others outside of the UK to our declaration has been overwhelming and extremely encouraging. We believe that music can change cultures and be a positive force. It is urgent to understand the gravity of the climate crisis.  It is our responsibility to call on government and to act. Our ambition is to accelerate collaboration to have a real impact on these critical targets, now. We all need to play our part in combating the climate crisis and to receive European recognition from IMPALA is a moment of real importance for Music Declares Emergency".

IMPALA Executive Chair Helen Smith concluded : "One of IMPALA's aims with this award is to highlight initiatives that are exceptional for our sector. We invite all artists, organisations and citizens to sign the Declaration".
About Music Declares Emergency
Music Declares Emergency is an independent group created by music business executives and artists concerned at the lack of a cohesive, industry wide response to the climate emergency.
 
In July of 2019 it organised an industry wide declaration of Climate and Ecological Emergency signed by leading artists businesses within the UK music industry, calling for net zero greenhouse gas emissions by 2030 and pledging industry action on environmental sustainability.
 
It believes that the music community can drive forward public understanding and pressure government to take immediate action on climate and biodiversity loss. You can sign the declaration here. For more information on Music Declares Emergency, click here.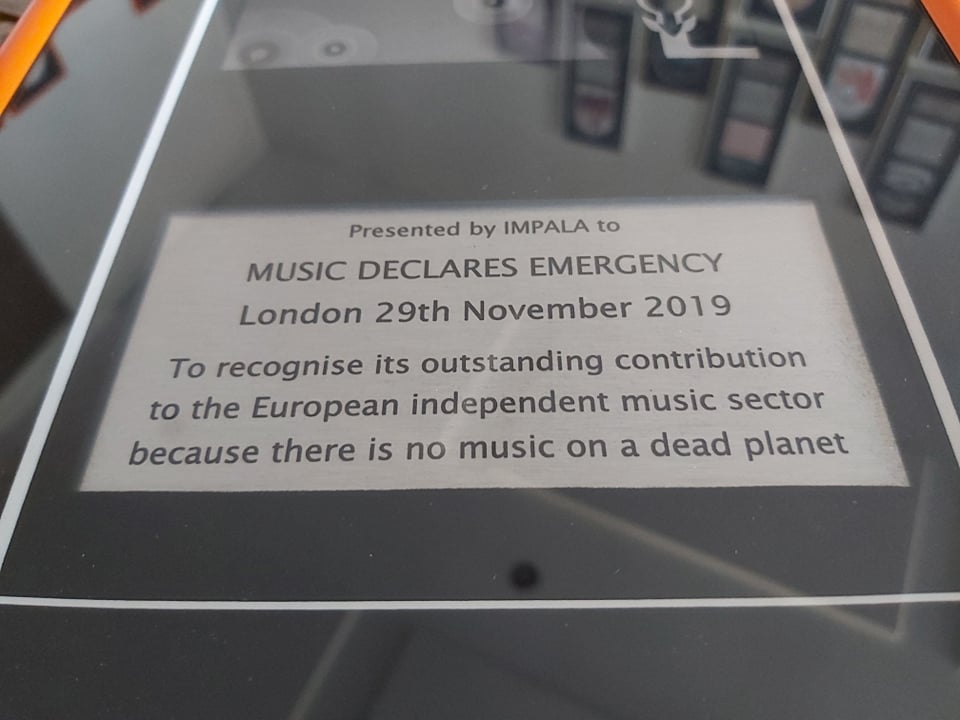 About IMPALA and the Outstanding Contribution Award 
IMPALA represents independent music companies across Europe. World leaders in terms of innovation and discovering new music and artists, independents produce more than 80% of all new releases. The Outstanding Contribution Award is one of two annual awards, which showcases European independent music and those who drive it, as well as initiatives that the sector feels deserve particular recognition. 
 
Previous winners include Markus Tobiassen and newspaper Dagens Næringsliv, Jonas Sjöström (Playground Music Scandinavia), Plus 1 – Refugees welcome!, Label Love, Eurosonic Noorderslag, Armada Music/Armin van Buuren, Martin Mills (Beggars Group), Charles Caldas (Merlin) and Mario Pacheco. 
 
IMPALA also has a Mercury-style prize for the best independent album of the year, as well as a range of silver, gold and platinum sales awards. Artists recognised include Viagra Boys, Gurr, Agnes Obel, José Gonzalez, Major Lazer, Christine and the Queens, Jamie xx, Caro Emerald, Trixie Whitley, Keny Arkana, Adele, Normhal, Skepta, And So I Watch You From Afar, Els Pets, Texas and Andreas Kummert.
 
More here.
About IMPALA
IMPALA was established in April 2000 to represent independent music companies. 99% of Europe's music companies are SMEs. Known as the "independents", they are world leaders in terms of innovation and discovering new music and artists - they produce more than 80% of all new releases and account for 80% of the sector's jobs (for more information, see the features of independents). IMPALA's mission is to grow the independent music sector, return more value to artists, promote cultural diversity and entrepreneurship, improve political access and modernise perceptions of the music sector. IMPALA has its own award schemes which highlight the artistic contribution of independent music. IMPALA award winning artists include Viagra Boys who was voted winner of the last Album of the Year Award, Caribou, Agnes Obel, José González, Guadalupe Plata, The xx, Armin van Buuren, Adele, Mogwai, Metronomy, Orelsan and Andrea Bocelli.