There are three types of IMPALA Awards: the European Independent Album of the Year, the Annual Outstanding Contribution to European Independent Music and the European Sales Awards...
IMPALA European Independent Album of the Year
This award celebrates the rich musical talent and diversity demonstrated by independent European releases, and the winner is selected based on its exceptional quality. A shortlist is compiled based on a national and non-national album nomination from each European territory, from which a jury of IMPALA board members then select a winner.
Click on the albums to find out more about the past winners, listen to the albums and access videos and interviews with the winners.
European Independent Album of the Year 2019
Apparat - "LP5"
Previous winners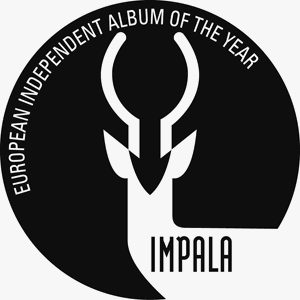 Winners: LP5 (Apparat), Street Worms (Viagra Boys), In My Head (Gurr), Citizen of Glass (Agnes Obel), Vestiges & Claws (José González), Our Love (Caribou), Guadalupe Plata (Guadalupe Plata), Coexist (The xx), 21 (Adele) and Chairs (Efterklang)
For more information about the Award itself, visit the "About Our Awards" page here
IMPALA Outstanding Contribution Award

This award recognises the unparalleled efforts of an individual or organisation, not necessarily from a label, to promote and develop European independent music and the diversity of the sector. Again, the winner is selected annually by a jury of IMPALA board members from a shortlist, compiled through nominations from European territories.
Winners:
Markus Tobiassen and newspaper Dagens Næringsliv
Armada Music & Armin van Buuren
IMPALA Sales AwardS
The IMPALA Awards are the first sales awards which recognise that success on a pan-European basis needs to be acknowledged on different levels. They celebrate the fact that success begins well before sales reach 1 million (the only pan-European sales level officially recognised before IMPALA launched its own scheme).
The Award categories are:
IMPALA Silver 20 000
IMPALA Double silver 40 000
IMPALA Gold 75 000
IMPALA Double Gold 150 000
IMPALA Diamond 200 000
IMPALA Platinum 400 000
IMPALA Double Platinum 800 000
For more information on Sales Awards, including terms and conditons, visit the "About Our Awards" page here
To register, visit the Register/Order page