Sabine Verheyen (@sabineverheyen) is coordinator in the Parliament's cultural affairs committee for the largest political group (EPP). She is also a founding member of the Digital Agenda intergroup and a member of the Creative Industries intergroup.
Brussels, 25th March 2015
"Thank you Helen, thank you everyone. I want to thank everyone who followed the invitation to this dinner for coming and hope that we can all enjoy a nice dinner together. I am also happy to see so many of my MEP colleagues here, and I would like to thank the members intergroup for cultural industries for the numerous appearances.

As an MEP, this event is important to me since it gives me the opportunity to speak with the creators, rightsholders and artists that are directly affected by our current work on issues such as copyright reform and the digital market.
A proactive dialogue is important for us as MEPs to hear the voices that shape Europe's cultural landscape and help us to protect and promote the cultural richness and diversity that make Europe as exciting as it is.
IMPALA as the voice of the independent music sector is an important player when it comes to preserving the cultural diversity of Europe.
Small and medium-sized independent record labels such as the members of IMPALA are necessary to provide a platform and give exposure to small non-commercial artists that produce content that is not necessarily regarded by the international masses, but serves as authentic and regional products to targeted audiences.
As most of you don`t know; I have recorded an album in 2011, containing songs meant for my hometown's fifth season; carnival. Carnival is a cultural institution in my region and music is a big part of that. I am talking about specific regional carnival songs and song texts written in the different dialects spoken in my region.
Thus, the audience for albums such as the one recorded by me is solely regional.
Naturally, I bought licenses from composers to use their music and alter their texts. The licenses were of course only bought for usage in my region.
A pan-European licence for this specific content would not have been affordable, and I doubt that anyone in Southern Spain or Northern Bulgaria would have listened to this specific kind of Carnival music.
As you can see, this is only one small example based on my personal experience. However, it shows that cultural differences among European and even national regions still exist.
Independent record labels and producers are the ones who keep this alive, in all its differing forms across Europe.
his is one reason why I oppose to make an EU-wide copyright title and pan-European licenses mandatory for all works.
But now to the real reason we are here tonight. IMPALA's new action plan is a step forward because it offers practical recommendations and encourages us to see the opportunities that we can create for Europe.
In Europe we have a lead we must capitalize on. Europe has the most innovative and diverse creative sectors and huge potential in our languages, whether we are talking about music, film, publishing or other cultural sectors.
What I like about IMPALA's action plan is that it challenges us to come up with an industrial policy, not just a piecemeal approach.
From finance to taxation, and concrete recommendations to improve diversity and measure our sector properly, it provides real food for thought.
It also encourages us to see copyright review as an opportunity to strengthen rights and make Europe the place to be if you want to be a leading creative business. And that for me is the key.
As a member of the cross party cultural industries intergroup, as well as a founding member of the digital agenda intergroup and as chair of the EPP working Group on copyright, I am currently taking part in a wide range of debates, of which the results have the potential to alter the cultural sector in Europe in a long-lasting way.
One of the key topics is copyright, which is not just important for the big players – it's firstly for artists and their partners such as IMPALA's members, especially with their 80% contribution in terms of jobs and new music. These are who we should have in mind when dealing with these issues.
Copyright is the fundamental tool for ensuring that creators are fairly rewarded for their work all along the value chain.
In this regard the stories we just heard from Mark [Kitcatt, Everlasting Records] and Martin [Mills, Beggars Group] are very interesting – it reminds us that there is no such a thing as "one size fits all" and how we need to work hard to promote diversity and solidarity.
I also find the call for a new set of "rules of engagement online" particularly interesting. This is a big priority for my own party in Germany right now and it's vital that Europe leads the way.  
The so-called 'value gap' and the licensing distortions flagged by Helen also strike me as a serious issue we need to address if we are to be sure to have a distortion free digital single market.
Having said this, I believe that everyone is ready to have dinner, so without further ado I would like to thank IMPALA again for organizing this dialogue and am looking forward to exchange views with you over dinner - enjoy your meal!"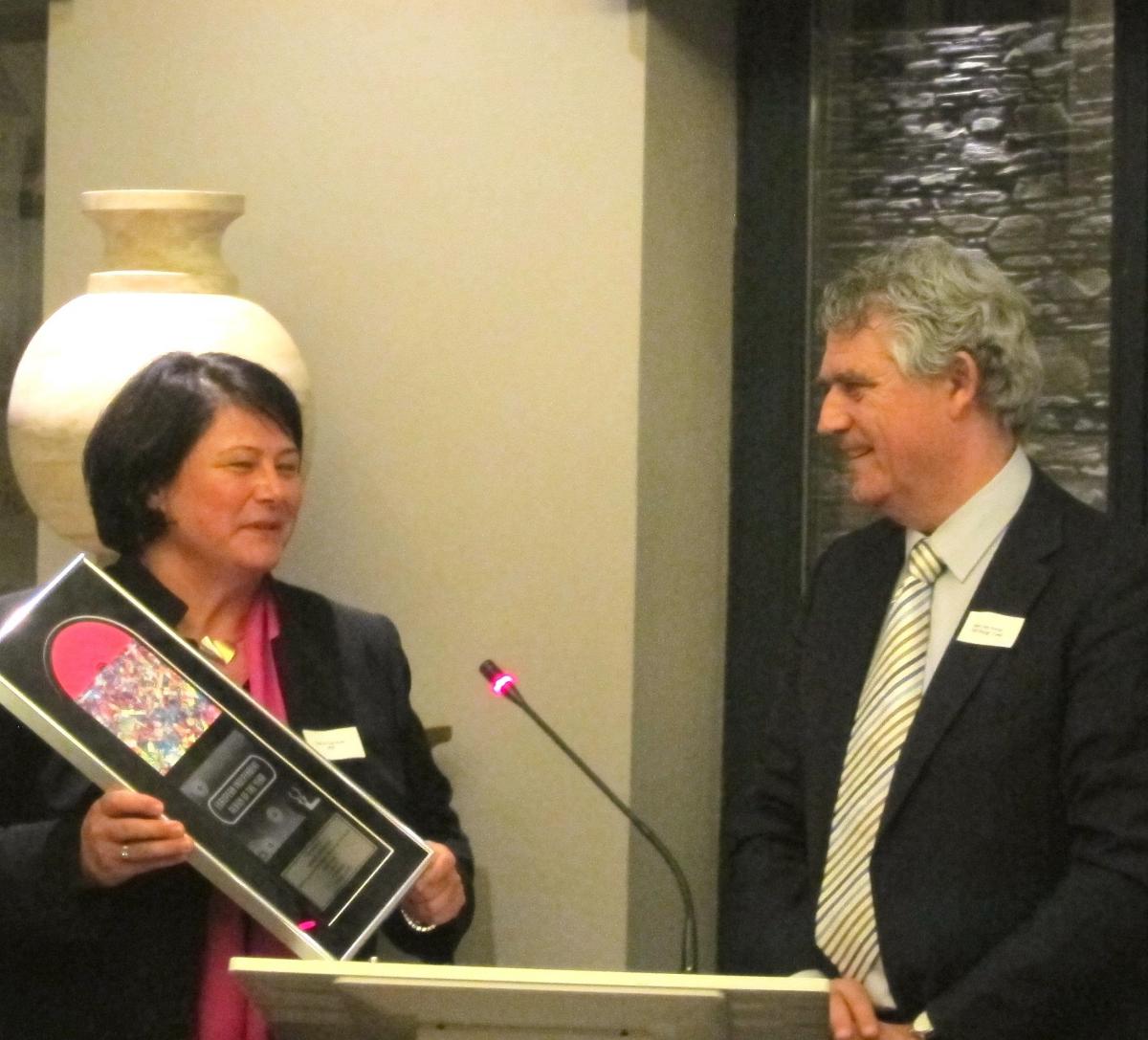 MEP Sabine Verheyen receives a personalised version of Caribou's IMPALA Album of the Year Award from Kees van Weijen, Managing Partner [PIAS] Rough Trade distribution and Chairman of IMPALA