Oslo, 1st March 2019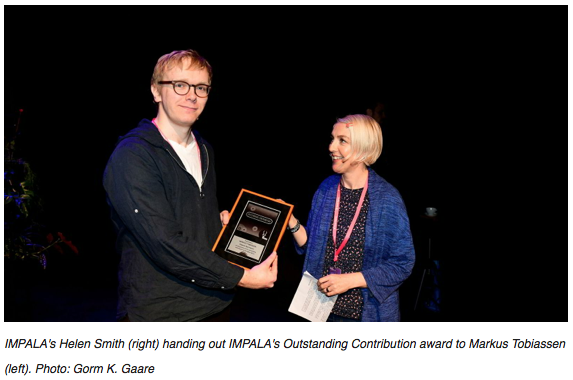 Each year, IMPALA recognises a person, an organisation or an initiative whose actions had a major impact on the independent music sector. This year, the award goes to journalist Markus Tobiassen and the Norwegian newspaper Dagens Næringsliv for their exceptional work investigating alleged streaming data manipulation. The award was handed out to Markus by IMPALA's Executive Chair Helen Smith during the by:Larm music festival in Norway.
 
IMPALA felt the work of Dagens Næringsliv and Markus was exceptional in pursuing basic principles of transparency and fairness in the online world. This is one of the raisons d'être of IMPALA. Given the very public debate around the rules of engagement online at the moment, from copyright to privacy and manipulation of public opinion, it seemed obvious to IMPALA that this level of editorial standards and journalistic work should be recognised. It is an award for both the paper and the journalists involved, including Kjetil Sæter who worked alongside Markus on the investigations and the newspaper features. 
 
IMPALA Executive Chair Helen Smith commented: "In a world of fake news and post-truth politics, facts can be hard to catch. The truth is out there, sure, but it's difficult to get. That's why good journalism must be recognised even more. The work of Markus and his colleagues as well as the commitment of DN on investigating streaming data at TIDAL is truly outstanding."
 
Amund Djuve, Editor at DN commented: "It is nice that our journalism is valued in this way. The flow economy and the new challenges it has given to practitioners and businesses are a new and demanding area for investigative journalism. We expect to have a lot to write about in the next few years".

Markus Tobiassen, Journalist at DN commented: "I'm grateful for the gesture, but more than that I owe thanks to IMPALA and others who've been willing to speak with me along the way and help me shed light on a business plagued by nondisclosure agreements and lack of transparency."
 
Click here to read Dagens Næringsliv's article on this.
 
With this award, they join other prestigious recipients such as Jonas Sjöström (Playground Music Scandinavia), Martin Mills (Beggars Group), Mario Pacheco (founder of Nuevos Medios and UFI), Charles Caldas (MERLIN) and Armin van Buuren (Armada Music). 
 
Helen Smith concluded: "All artists are born equal and one of IMPALA's aims with this award is to shine a light on work that makes that really mean something in the online world, by promoting true and transparent data in the streaming market. Without that, we and our artists lose out."
About Markus Tobiassen 
Markus Tobiassen is a journalist at Norwegian newspaper Dagens Næringsliv since 2014. Prior to that he was a cultural journalist and film critic in Adresseavisen. He was one of the lead investigators on the TIDAL case, which caused a stir in the music industry as whole, raising the alarm on possible issues with the way certain streaming platforms run their business. 
 
About Kjetil Sæter
Born in Norway, Kjetil Sæter has worked as a journalist for the broadsheets Aftenposten, Finansavisen and Dagens Næringsliv, and still works as a feature journalist for the latter. He has won two SKUP diplomas (2007 and 2010), the Schibsted Journalism Award (2008) and the prestigious SKUP award (2011) for investigative journalism.
 
About Dagens Næringsliv
Dagens Næringsliv (Norwegian for "Today's Business"), commonly known as DN, is a Norwegian newspaper specialising in business news. As of 2015, it is the third largest newspaper in Norway. The newspaper unveiled a major story in 2018 about alleged streaming data manipulation by platform TIDAL to inflate the number of times albums by Kanye West and Beyoncé have been played, leading to further investigation by the Norwegian National Authority for Investigation and Prosecution of Economic and Environmental Crime.
 
About IMPALA and the Outstanding Contribution Award 
IMPALA represents independent music companies across Europe. World leaders in terms of innovation and discovering new music and artists, independents produce more than 80% of all new releases. The Outstanding Contribution Award is one of two annual awards, which showcases European independent music and those who drive it. Previous winners include Jonas Sjöström(Playground Music Scandinavia), Plus 1 – Refugees welcome!, Label Love, Eurosonic Noorderslag, Armada Music/Armin van Buuren, Martin Mills (Beggars Group), Charles Caldas (Merlin) and Mario Pacheco. IMPALA also has a Mercury-style prize for the best independent album of the year, as well as a range of silver, gold and platinum sales awards. Artists recognised include Agnes Obel, José Gonzalez, Major Lazer, Christine and the Queens, Jamie xx, Caro Emerald, Trixie Whitley, Keny Arkana, Adele, Normhal, Skepta, And So I Watch You From Afar, Els Pets, Texas and Andreas Kummert.